Does the Audi E-Tron have a front trunk?
The Audi e-tron comes with a front trunk, or "frunk," giving drivers convenient storage space and access to equipment. Learn more.
---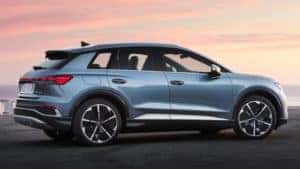 The front trunk, or "frunk" has become a popular feature on many luxury electric vehicles. With no oversized engines in the front of the car, EV manufacturers have more space to work with. To maximize the available space, many EVs include a front trunk to provide extra convenient storage.
The Audi e-tron's front trunk provides a modest-sized storage space where drivers can store whatever equipment they need. The e-tron's front trunk also houses standard maintenance equipment like your car's tire repair kit. Drivers can fit their own twos or equipment in the provided storage space as well. The front trunk is just one of many features that makes the Audi e-tron a comfortable and spacious LEV.
Visit your local Ray Catena Audi dealership to take home a new Audi e-tron. Or keep reading to learn more about luxury electric vehicles.