How Does the Lexus NX Plug-In Hybrid Compare to the Infiniti Q50 Plug-In Hybrid?
The Lexus NX plug-in hybrid is a plug-in SUV hybrid with new models released for 2022. The Infiniti Q50 hybrid was manufactured for the model years 2014-2018. Despite being discontinued, the Q50 still has many advanced features that are relevant in 2022.
---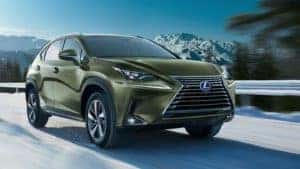 The Lexus NX plug-in hybrid is one of the leading plug-in models on the market in 2022. As a highly efficient luxury SUV, Lexus has exceeded expectations with its latest model. Drivers looking for other high-end hybrid options might also consider the Infiniti Q50 hybrid. At Ray Catena, the local experts in LEVs, we can always help you learn more about how models compare to each other when you're undecided. Here is a breakdown of how these models compare to one another.
Driving Performance
The Lexus NX plug-in hybrid is among the most efficient hybrid models available in 2022. While other plug-ins hover around 20 miles of electric range, the NX cruises past with a 37-mile battery range. Combined with its gas engine efficiency (28 MPG), the NX gets a very impressive 84 MPGe. These figures are especially impressive for an SUV model.
In terms of power, the NX 350h has a 240 horsepower engine, going from 0-60 in 7.2 seconds. The NX 450h+ model has a little more thrust to it, at 304 horsepower.
The Infiniti Q50 Hybrid is not a plug-in model. Rather, its V6 gas engine is used to power the car's electric battery, which then connects to the drive train. So while gas is needed to power up the Q50, it's able to run much more efficiently than other vehicles. Proof of this is in its 34 MPG highway efficiency, compared to the fully gas-powered Infiniti Q70's 25 MPG.
The Q50 comes equipped with many smart handling features which make for seamless navigation. And its 360 horsepower engine provides much more of a boost than you might expect. Despite being discontinued after the 2018 model year, the latest Q50 hybrid still holds up against many top 2022 models.
Design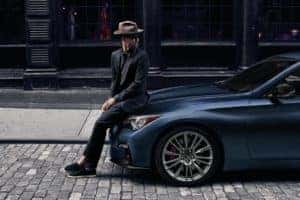 When weighing these two hybrid models side by side, the most obvious thing to note is the vehicle type. The Lexus NX plug-in hybrid is an SUV, while the Infiniti Q50 hybrid is a sedan.
Despite dating back to 2018, the Infiniti Q50 still offers plenty of elegant design features. Optional heated leather seats help accentuate an already-luxurious cabin. The interior of the Q50 hybrid is roomier than expected and provides excellent comfort for up to 5 passengers.
The 2022 Lexus NX, on the other hand, offers a bit more flair in its design options. Starting with its bold exterior frame, Lexus aims to make a strong impression with this model. An optional panoramic moonroof adds a tremendous ambiance to the cabin, which seats up to 5 comfortably. Lexus even added an ergonomically contoured steering wheel with audio control buttons built in, for maximum convenience and comfort.
The Q50 is an excellent low-fuss option for drivers who want simple luxury and efficiency. The NX, meanwhile, is a tremendous option for modern EV drivers who crave a bit of elegance.
Cost of Ownership
The Infiniti Q50 hybrid starts at a very modest $30,000, making it one of the more affordable LEVs available. The Lexus NX Plug-in Hybrid also offers tremendous value, starting at just $40,160.
Visit us at a Ray Catena dealership – we'll set up a test drive and help you learn all you need to know about what Electrified Luxury has to offer. Or find out how plug-in hybrid luxury cars compare to full LEVs.