How long can you drive a Mercedes EQS before you need to charge?
The Mercedes EQS offers one of the longest-lasting charges among all LEVs on the market. The EQS can get an exceptional 350 miles before needing to be recharged. At Ray Catena Auto Group, our expert staff can answer all your questions on the EQS and any other LEV we offer.
---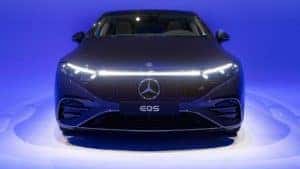 Mercedes-Benz's Ambition 2039 initiation aims to make the brand completely carbon neutral by 2039. The Mercedes EQS is certainly a step in the right direction toward that goal. Its 350-mile charge range puts it in elite company on the LEV market. To go with that exceptional range, the EQS also offers quick charging times. With AC charging, the EQS can be fully charged in just over 11 hours. Using DC fast charging, the EQS achieves a full charge in just 30 minutes. The Mercedes EQS is one of the most efficient LEVs available. Drivers of this electric sedan should never need to worry about being out of range while on the road.
Ray Catena Auto Group is the tri-state area's leader in Electrified Luxury. Visit one of our dealership locations to test drive the powerful EQS or any of our other incredible LEV offerings, or read more to learn about the best charge range among LEVs.