How long can you drive an Audi e-tron before you need to charge?
The 2022 Audi e-tron SUV has an estimated battery range of 222 miles. The e-tron also comes with a 150kW charger and 250kWh of complimentary charging via Electrify America – Ray Catena's knowledgeable staff is always ready to answer any further questions on the Audi e-tron's performance.
---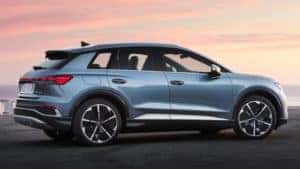 The Audi e-tron is Audi's latest all-electric vehicle. The e-tron offers power and luxury, and also gets a very good 222 miles on a single charge. The e-tron also comes with a complimentary charging cable for at-home charging. With standard AC charging, the e-tron's 95 kWh battery charges at a rate of approximately 20 miles of range restored per hour. It can be fully charged in approximately 10 hours of at-home charging, or 33 minutes with fast charging.
With all the charging options available, Audi e-tron drivers should never be out of range from a charging station.
Visit a Ray Catena dealership location to take Audi's innovative e-tron for a test drive. Or view our FAQ page to learn more about LEV charging and batteries.
Learn more about Audi Electric Cars: