Which is the Fastest LEV?
The fastest luxury electric vehicle is the Tesla Model S. The manufacturer claims it is capable of reaching 200 MPH, but this claim has not been confirmed in any tests. The Porsche Taycan is the next fastest LEV, at 161 MPH. At Ray Catena Auto Group, we're happy to get you behind the wheel of an LEV for a test drive so you can experience the speed and performance these advanced automobiles are capable of.
The makers of luxury electric vehicles have worked hard for them to match their gas counterparts in terms of speed and power. But in 2022, LEV manufacturers are starting to close the gap. Many new model LEVs are capable of speeds that rival many high-end gas vehicles on the road. Tesla has made headlines by claiming that its Model S can reach 200 MPH. Though these claims have since been disputed, the Model S is still one of the fastest vehicles available, electric or otherwise. But where does it rank among all LEVs in 2022? Let's find out. Here are some of the fastest LEVs on the road today.
Audi e-Tron GT – 156 MPH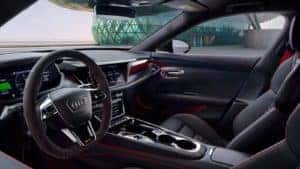 Like all Audi vehicles, the e-tron GT offers an incredibly smooth drive and an even more luxurious design. But this luxury electric vehicle also turns heads for its unexpected and impressive speed. The e-tron GT's speed maxes out at 156 MPH and goes from 0-60 MPH in just 3.1 seconds.
The GT should not be confused with its counterpart, the Audi e-tron SUV, of course. Both are extremely high-quality LEVs, but only the e-tron GT can achieve these high speeds. True to the Audi name, the GT also offers other advanced features. A high-tech, comfortable cabin with surround sound audio greets you inside. And on the outside is a dazzling sleek and sporty design.
Porsche Taycan Turbo – 161 MPH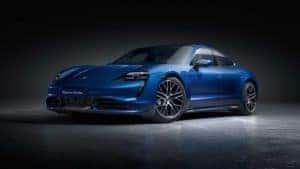 If any LEV is going to give the Tesla Model X a run for its money, it's the Porsche Taycan. Porsche has been manufacturing powerful and luxurious vehicles for decades. That pedigree is carried over into the fully electric Taycan. 
There are several Taycan models that all deserve a mention here. The fastest models are the Taycan Turbo and Turbo S, which max out at 161 MPH. The Turbo S has an astounding acceleration rate to go with that top speed: 0 to 60 MPH in just 2.6 seconds. All of this is supported by a 750-horsepower electric motor.
Even the standard Taycan model can reach speeds of 143 MPH. While that does not put it in contention for the title of "fastest EV," it is still quite impressive. And to top all of this power off, the Taycan is also regarded as one of the smoothest handling LEVs as well.
Tesla Model S – 162 MPH
Yes, even with the doubts about the 200 MPH benchmark, the Model S still holds onto the title of Fastest LEV. The standard Tesla Model S is just barely behind the Audi e-tron GT, clocking in at 155 MPH. But the Model S Plaid, with a whopping 1020 horsepower, is the EV with the highest speed. It does fall short of the two-century mark, but its high benchmark in tests so far has been 162 MPH. 
We may have to wait for an EV to crack 200 MPH. In the meantime, there is no shortage of impressive LEVs today.
Ray Catena Auto Group has always been known as the Legend in Luxury – and now we're the leaders in LEVs. Visit a dealership or browse our extensive inventory for more on how our LEV expertise can help you.