Audi E-Tron – Review
The Audi e-tron offers simple elegance in an excellent family electric luxury SUV. Learn more.
The e-tron was Audi's first all-electric model. Several years later, the e-tron has established itself as one of the German luxury brand's most successful models. The e-tron stands out for its quiet elegance, safe and sturdy design, and powerful driving performance – and Ray Catena is ready to get you behind the wheel of one.
---
Range
The e-tron's range is fairly average among all electric SUVs. The 396V, 95 kWh battery provides 222 miles of range on a single charge. Though the range is not exceptional, the e-tron makes up for it with exceptional charging speeds. Using a Level 2 charger, the e-tron's battery can reach up to 80% charge. With DC fast charging, the e-tron can be fully charged in half an hour. The combination of range and fast charging makes the e-tron a very efficient vehicle for everyday driving situations.
Speed and Performance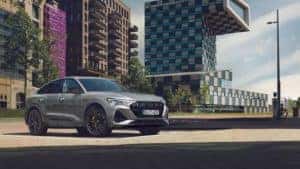 The e-tron has a modest accelerating speed, going from 0-60 in 5.1 seconds. The standard model has a top speed of 125 MPH. While these numbers are respectable for an SUV, speed and acceleration are not the reason most drivers choose the e-tron.
The e-tron's reputation on the road is built instead on its strength and smooth ride. Even compared to other EVs, the e-tron is remarkably quiet. And once it's on the road, it makes even the roughest terrain feel like a smooth, straight lane.
Optional towing equipment can take the e-tron SUV to another level. Drivers who choose this feature will enjoy up to 4000 pounds of towing capacity. In combination with its smooth performance and efficiency, this makes the e-tron an ideal vehicle for families. The e-tron is versatile and durable, and perfect for a driver who needs a vehicle they can depend on.
Build and Design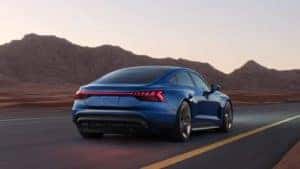 Like most modern vehicles, the Audi e-tron uses a combination of aluminum and steel in its construction, weighing 5489 pounds. The reinforced aluminum helps keep both its passengers and essential components safe on the road.
With a sizable frame, the e-tron has great cargo capacity and can seat five in exceeding comfort. The e-tron has a minimum of 27.2 feet of cargo space. That number increases to 54.5 feet when the back seats are folded down. When the rear seats are in use, passengers in back can enjoy 39 inches of legroom. Front passengers can stretch out with 40.8 inches of legroom and 38 inches of headroom. 
Technology
Every Audi vehicle comes standard with a robust suite of advanced safety features. The e-tron is no exception. The e-tron scores top safety ratings from both the IIHS and NHTSA. Standard safety features on the e-tron include lane departure warning, front crash detection and stability control.
The e-tron's cabin tech also provides luxury and practicality. A 10.1 inch touchscreen infotainment system and powerful surround sound are a couple of the e-tron's tech highlights.
Cost of Ownership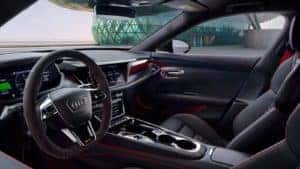 The Audi e-tron provides great value, starting at $65,900. Additional models and upgrades from the base model are available. The e-tron Sportback offers improved performance (and slightly reduced space) and starts at $69,100. The Premium Plus package of features adds about $9,000 to the price tag, along with luxury features that include: additional charging ports, power adjusted and heated seats, and enhanced surround sound.
Visit any Ray Catena Audi dealership to drive home a brand new Audi e-tron.