How Long Can You Drive a BMW i4 Before You Need to Charge?
The BMW i4 is a fully electric coupe. Depending on which i4 model you choose, you drive up to 270 or 301 miles before needing to recharge.
The BMW i4 comes in two models: the BMW i4 M50 and the BMW i4 eDrive40. The M50 features 536 horsepower and has a charge range of up to 270 miles. The eDrive40 sacrifices some horsepower (335 hp) for an extended charge range of 301 miles.
---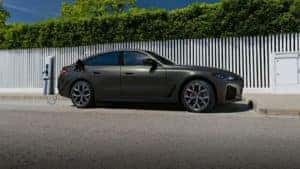 The BMW i4 comes equipped with its own charging cable, so drivers can charge anywhere. The complimentary charging cable is compatible with either 120V or 240V outlets. This makes it very easy to charge your i4 from the comfort of your own home. At Ray Catena Auto Group, our knowledgeable staff is ready to help you understand every aspect of LEVs before you make your decision on which LEV is right for you.
Visit one of Ray Catena's dealership locations to test drive a high-performance LEV, or browse our inventory of Electrified Luxury.