Why does the Porsche Taycan have 4 doors?
The Porsche Taycan is a four-door, fully electric sedan from the luxury automaker. The Taycan has four doors, as opposed to two, because of its spacious cabin. The two rear doors help to maximize passenger comfort in this LEV. At Ray Catena Auto Group, we're ready with all the answers to your most pressing LEV questions.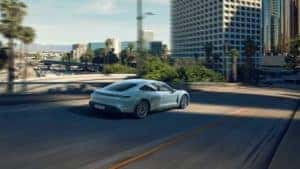 Many powerful sports cars opt for a two-door design as opposed to a four-door design. But the Porsche Taycan is designed as a four-door electric sedan. The reason Porsche opted for this design is that they view the Taycan as more than just a sports car. The roomy cabin has plenty of space for passengers to sit comfortably in the rear. It simply would not have made sense to make the back seats less accessible by eliminating the rear cabin doors. The four door design is just one reason why the Taycan is one of the most versatile LEVs available.
Visit us at Ray Catena Auto Group to learn more about the spectacular Porsche Taycan and the rest of our impressive LEV inventory.
Learn more about electric cars: