Porsche 718 Cayman GT4 Rendered
According to Bradley Brownell from 6 Speed Online, "Porsche's newest GT3 model launched with the proper high-revving 500-horsepower 4-liter it's always needed. That means there is plenty of room in the GT-series lineup for their lower-tier model to gain some serious firepower. The now-defunct Cayman GT4 ranks quite high among our favorite Porsches. Naturally, we were excited to hear rumors of it coming back. We've had one of our excellent render artists give an idea of what the GT4 might look like with the 718's new tail light and rear fascia treatment. We think this one looks even better than the last GT4. Somehow the little ducktail flip-up at the rear of the hatch works even better with the 718's unique void between the tail lamps.
The 981 Cayman GT4 made use of the 991.1 Carrera S' excellent 3.8-liter, making just shy of 400 horsepower. However, the 991.2 generation has seen the Carrera S move to a turbocharged flat six with 420 horsepower. We know that this engine will unequivocally not fit in the engine compartment of a 718 Cayman. So, we're forced to assume Porsche will kick in their only naturally aspirated engine remaining; the 4.0-liter found in the 991.2 GT3. Obviously, it wouldn't make sense for a mid-engine GT4 to outshine its much more expensive GT3 big brother, we assume the engine would be detuned for GT4 use."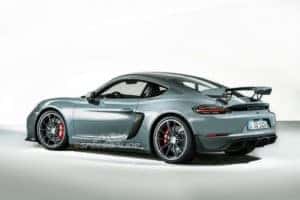 Disclaimer:
All content belongs to www.6speedonline.com  and is not representative on Ray Catena Auto Group.