When Will the Audi E-Tron be Available for Purchase?
The 2022 Audi e-tron is currently available for purchase – at Ray Catena Auto Group, the regional LEV experts, we're committed to keeping you updated on the latest in Electrified Luxury.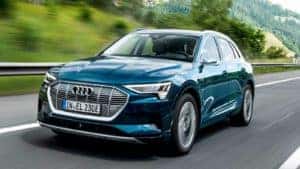 The new Audi e-tron became available for purchase in late 2021. The e-tron is a fully electric luxury SUV, and one of the most impressive LEVs on the market. The e-tron offers drivers elegance, smooth driving, a spacious cabin, and all the latest technology. And with over 200 miles of charge range, the e-tron is one of the most efficient all-electric SUVs too.
Drivers have come to trust Audi as one of the leading names in luxury vehicle manufacturing over the years. With the e-tron, Audi shows that they continue to put the same quality into their electric vehicles as well.
Visit one of our dealership locations to test drive any of our impressive LEV models available, or view our full LEV inventory.