Which LEVs have the best technology?
With more luxury manufacturers offering new and improved luxury electric vehicles, EV technology is better than ever. Electric vehicles can do more today than many thought possible over a decade ago. Many different models from different manufacturers excel in certain areas. Ray Catena Auto Group is the regional expert in LEVs, and we can help you comparison shop with a clear side-by-side look at all of our excellent luxury electric vehicle models.
---
Every luxury electric vehicle manufacturer strives to have the "best tech" in their vehicles. This competition has bred some fantastic innovations in recent years in the LEV marketplace. Ultimately the "best" vehicle will always be a matter of personal preference. But, if you're looking for recommendations based on certain categories, keep reading further.
Best LEV Battery
The lifespan and charge range of luxury electric vehicle batteries is better now than ever before and still improving. Many LEVs in the 2022 class boast exceptional battery life. But few models can match the 350-mile charge range of the Mercedes-Benz EQS.
With a 107.8 kWh battery capacity, the EQS is one of the most impressive models you will find on the market. But the EQS is more than just an exceptional battery. Other luxury features include three distinct driving modes, multilingual voice controls, ambient lighting, and wireless compatibility.
Best LEV battery range: Mercedes-Benz EQS; 350 miles.
Honorable mention: Jaguar I-PACE; 234 miles.
Most Horsepower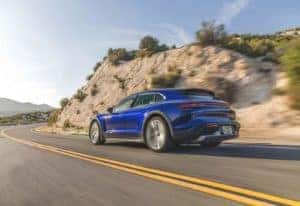 Never underestimate the strength potential of a luxury electric vehicle. Recent advancements in EV technology have led to great strides in horsepower capabilities. Now, many electric vehicles can compete with traditional combustion engine cars in terms of torque and horsepower.
The Porsche Taycan Cross Turismo stands out for its exceptional horsepower. This exceptionally powerful vehicle comes in a couple of different models. The base model, the Cross Turismo, packs 469 HP and can go from 0-60 in under 40 seconds. The Taycan Turbo Cross Turismo goes up to 562 HP with a top speed of 155 MPH.
But the crown jewel of the Taycan Cross Turismo line is the Turbo S Cross Turismo. The Turbo S Cross has a whopping 750 horsepower, going from 0 to 6 in just 2.4 seconds.
Regardless of the model you choose, the Porsche Taycan Cross Turismo is the LEV of choice for drivers who love speed and power. But this vehicle offers more than just power. It also offers smooth handling, advanced braking features, and a very sleek and elegant design.
Most LEV horsepower: Porsche S Cross Turismo; 750 horsepower.
Best LEV Safety Features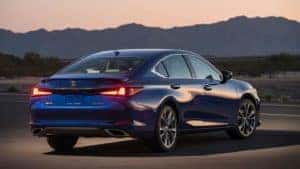 Now that we've covered the most exhilarating ride among LEVs, it's time we also talked about safety. Feeling safe in your vehicle is more important than anything. Advanced safety features have been in the works for years in all types of vehicles. Many luxury electric vehicles are leading the charge on modern developments in vehicle safety.
It can be difficult to identify one single LEV as having the best safety technology. Many models offer many different safety features.
One of the better LEVs in terms of safety is the Lexus ES Hybrid. With smooth handling, exceptional crash test ratings, and a spacious cabin, the ES Hybrid is great for safety-minded drivers. Every ES vehicle has access to the Lexus Safety System+2.0. This system provides a full suite of advanced safety features for all Lexus vehicles. These features include pre-collision, lane departure alerts, and intelligent high beams.
Best LEV Safety features: Lexus ES Hybrid
Honorable mention: Audi e-tron
At Ray Catena Auto Group, we're the tri-state area's foremost experts in Electrified Luxury. Visit us today and take a test drive – we'll help you understand all the features of the LEVs you have your eye on and make an informed decision.
Learn more about electric vehicles: