Women's Choice Award
Ray Catena Auto Group is proud to announce that BMW, Audi, Alfa Romeo, Porsche, Jaguar, Mercedes-Benz, Mini, and INFINITI  have been honored with multiple Women's Choice Awards, in multiple categories across the board. Women's Choice Award has unveiled four new Automotive Awards: Safety, Reliability, Family-friendly, and Eco-friendly, in which the above mentioned brands have been mentioned in each.
According to Women's Choice Award's methodology on how they calculate a winner, several points need to be in consideration. The following explains the process:
1) FAMILY CAR or Truck
In the survey, women stated that when it comes to purchasing a family car, value, safety, reliability, convenience and comfort were the most important considerations. The family car award was determined by creating a composite score based on these top considerations weighed according to results of this survey, and adjusted for the model's relative base price.
Safety: Cars with good or acceptable front crash prevention results and LATCH ratings are awarded points. Additional points are awarded for cars that had selected safety features as standard or optional equipment, such as automatic emergency braking, lane departure warning and blind spot detection, among others.
Comfort: Cars and trucks are given a composite score that measures relative interior space by adding the standardized scores of the following measures: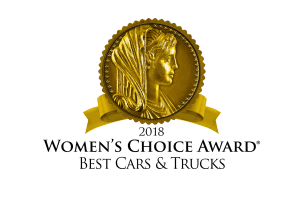 Seating capacity
Cargo capacity
Front head room
Front leg room
Front hip room
Front shoulder room
Rear head room
Rear leg room
Rear hip room
Rear shoulder room
Convenience: Cars are awarded for selected convenience and entertainment features that come standard, such as climate control, cruise control, digital connectivity and hands free entry, among others.
Fuel Economy: Cars that had higher fuel economy, as determined by the EPA and Consumer Reports for combined city and highway mileage, earned a higher ranking.
Reliability: Composite score are determined by measuring important criteria such reliability records, standard warranty and recall record.
2) SAFEST CAR
Women were provided an extensive list of safety features and were asked to rank those features that they considered to be most important. Among the features are adaptive headlights, rear view cameras, forward collision warning, and rear cross traffic detection. Cars with these features as standard equipment were awarded more points than those on which it was optional equipment. Additionally, cars with good or acceptable IIHS (Insurance Institute for Highway Safety) front crash prevention results and cars that have better than average braking and collision avoidance performance were awarded additional points.
3) RELIABLE CAR
No one wants the hassle of an unreliable car, and women are no exception. An unnecessary or unplanned trip to the dealer or repair shop is an inconvenience everyone wants to avoid.
To rate cars and trucks for their reliability we started with the reliability scores provided by Consumer Reports. Where they had ratings available we calculated the vehicle's standard deviation from the average rating. We also looked at the vehicle's standard warranty. The average is about 4 years and 50,000 miles, so we gave points for those that had longer warranties and deducted for those with shorter ones.
We also looked at reported recalls and made additional deductions for those issue, before we made adjustment for the relative base price. A less costly vehicle is at least a small comfort when something goes wrong.
4) ECO FRIENDLY CAR
Women indicated that reducing foreign dependence on oil would be the number one reason they would purchase a "green" car. Reducing the environmental impact of man-made activities and personal gas expenditures came in a close second and third. The eco-friendly award was determined by creating a composite score based on these considerations and weighed according to results of this survey.
Fuel Economy: Score determined by standardizing the combined MPG and EPA's fuel economy rating.
Eco-friendly features: Cars were awarded additional points if they have a start/stop technology feature.
SmartWay certification: The EPA's SmartWay program certifies the 20% lowest-emitting passenger vehicles each model year, based on greenhouse gas and smog ratings. We gave a vehicle additional points for qualifying for this certification.
Disclaimer:
All information belongs to WomensChoiceAward.com and is not representative of Ray Catena Auto Group.