You Should Buy the Range Rover Velar for the Touchscreen Alone
All right, let's get the boring stuff out of the way: The 2018 Range Rover Velar R-Dynamic HSE costs $69,100. It has a 180-horsepower engine and gets 28 miles per gallon, crawling to 60 miles per hour in 8.4 seconds. Its looks are inoffensive, even cool. If you like a sleek, low-slung-SUV aesthetic, you'll like this model. Yadda, yadda, yadda.
Now, let's talk about that infotainment screen. It's a technological wonder that will make you annoyed to use anything less again.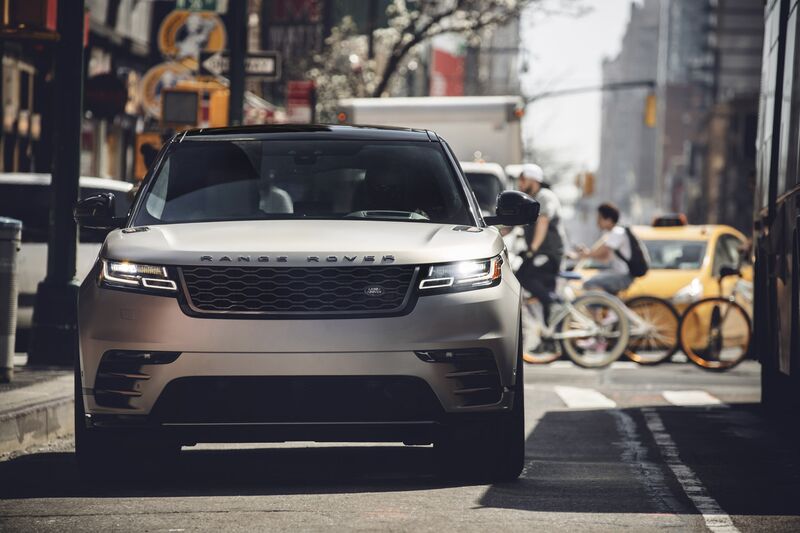 Land Rover put the new screen configuration in all of its 2018 Range Rover and Range Rover Sport SUVs—for good reason: It's not quite as revolutionary as when Steve Jobs introduced the beautiful, new iPhone, but it comes close. The 10-inch-wide top section is oriented at an angle that makes it feel almost horizontal, as if you're pushing images on an architect's drafting table. It handles most of the media, navigation and phone settings with minimal toggling between menus and sub-menus. The positioning takes getting used to, but you'll love controlling everything with zero time lag (this happens in a lot of cars) on a beautiful, big, intuitive screen.
There's a bottom touchscreen, also 10 inches wide, that mostly controls the environment withing the car. A super-sharp 12.3-inch digital gauge cluster behind the steering wheel also helps you control the media, talk on the phone, and monitor the car's status without moving your gaze to the side. There are even different views to choose from, like dual gauge, single gauge, full map, media, or driver-assistance options.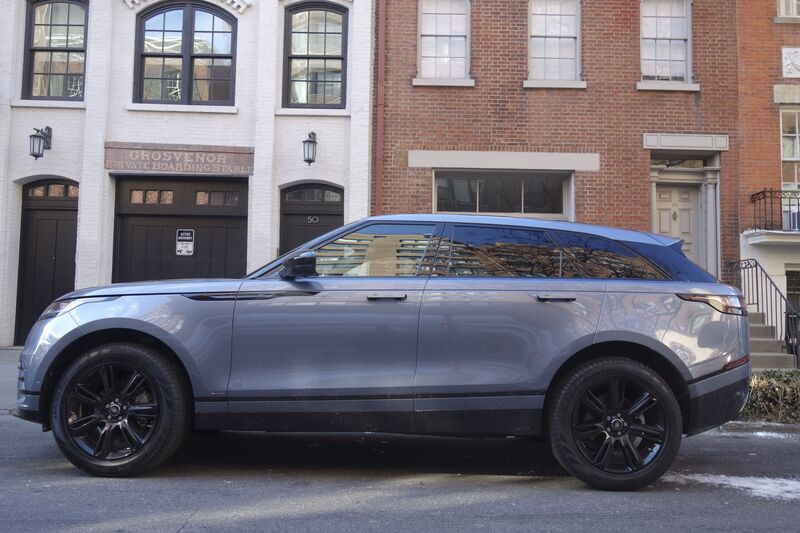 This setup virtually removes every knob or button in the cabin. There are dials to control climate, and a big, round gear selector in the center console. Aside from them and the window switches on the doors, no mechanical controls are to be found. It's like going from a typewriter to being handed an iPhone for the first time. It looks as clean as a quartz countertop in a South Beach condo. This is a beautiful thing.
Even the dials work cleverly: You can double-push the climate dials to switch between adjusting the temperature inside the cabin and adjusting the temperature of the seat heaters. It's so efficient—just like your gas mileage! And despite being new, the system is intuitive, so you quickly become accustomed.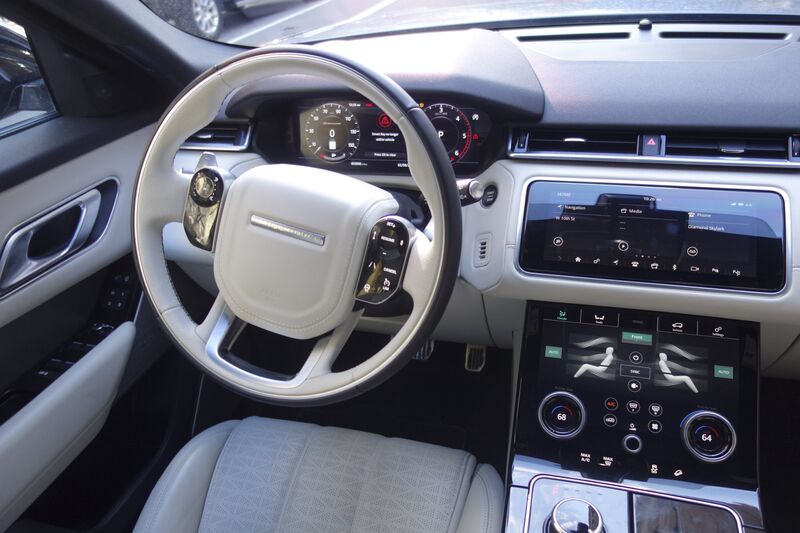 The big takeaway from the configuration is that it allows you to seriously multitask without complicating things or distracting you. The system simply increases the amount of information and control available to you at any given time; it's a true mind expansion, far better than in other cars, easier to use, and nicer to look at. You can view and interact with multiple functions on multiple screens at once. For instance: Navigate to a restaurant in the upper system while adjusting the seat heaters and playing music via the lower one. You can also opt to buy additional technologies that allow seamless connection to the car to monitor locations, security, and Wi-Fi access from anywhere—even your Apple Watch.
That's just the front of the Velar. The back seats keep up the pace, with an optional system that allots two eight-inch screens in the front-seat headrests, which can play movies or music and have multiple USB ports with Wi-Fi-connected headphones.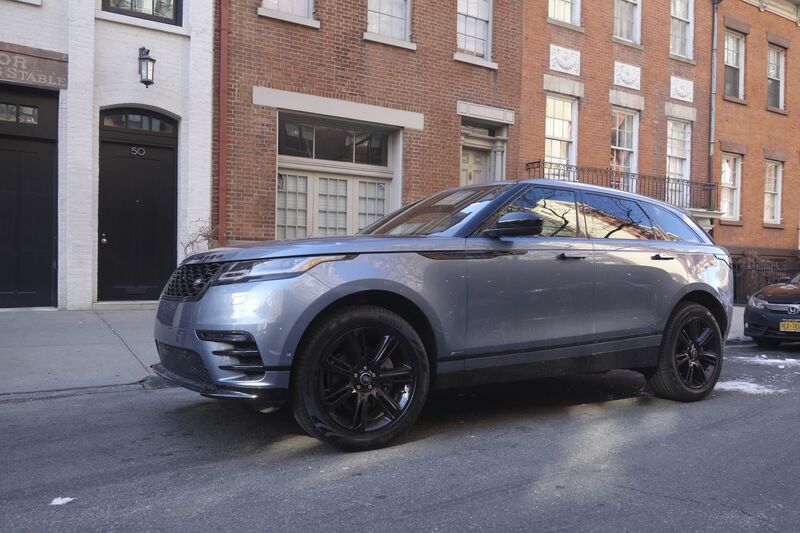 The additional trappings of the Velar complement the excellent quality and production value of the screens: The oyster-colored leather seats are firm and supportive, and there's quite a lot of head and leg space. It's cool that the SUV comes with exterior door handles that fully extend—not just pop out, as with those on some other cars from Jaguar—when the key fob comes near them, then withdraw to be flush with the doors when you lock them. The handles also have been equipped with a round, spotlight effect; in addition to being Instagram-able, the light can help you get into your car on a dark evening, after a long dinner.
Once you add in climate packages, a locking glove box, a heated steering wheel, premium carpeting, and such details as illuminated tread plates, the price of the Velar jumps to at least $75,500. This is a tidy sum, but it's considerably less than what people expected in an informal survey I conducted of friends, colleagues, and garage attendants.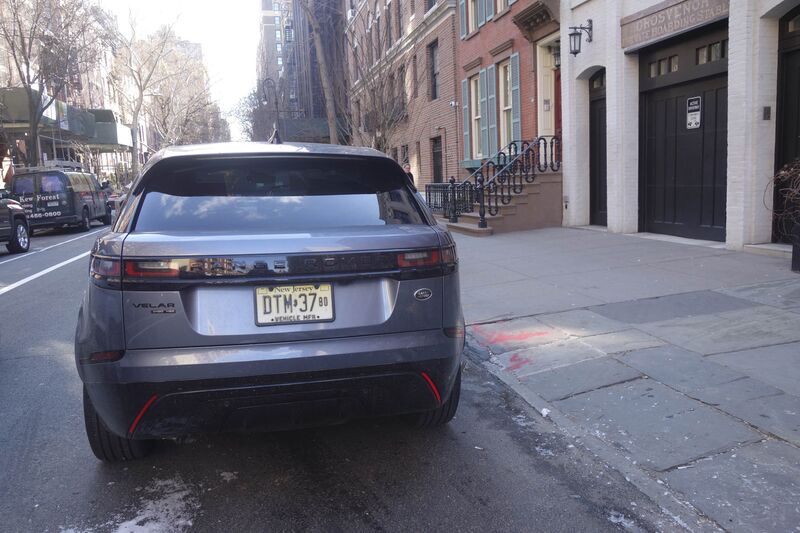 Behind the wheel, Velar feels just as tall and spacious as any Rover. Its turbo-charged engine pushes strongly through second, third, and fourth gears, and its architecture—the same that underpins the Jaguar F-Pace—remains pleasingly stiff. Both inside and out, the Velar feels fresh and exciting, even with an appetite for an old, fossilized fuel.
Does this sound like a commercial for the Velar? It isn't, although I get your point. Really, it's all about that screen.
View Ray Catena Land Rover Edion's
Range Rover Velar inventory

HERE

!
Disclaimer:
All content belongs to Hannah Elliot and Bloomberg.com and is not representative of Ray Catena Land Rover Edison.