How long can you drive an Audi A7 plug-in hybrid before you need to charge?
The 2022 Audi A7 plug-in hybrid has an electric-only range of 26 miles. It has a total (gas plus electric) range of 410 miles, getting 27 MPG on gas-only power. At Ray Catena, we're committed to keeping you informed about every aspect of Electrified Luxury
---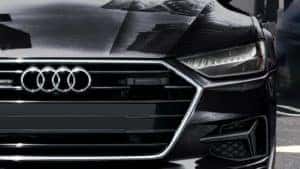 The 2022 Audi A7 is a plug-in hybrid with a total range of 410 miles combined with both gas and electric. Drivers can reach a range of up to 26 miles in the A7 using only its electric battery. While this distance may not be enough for extended trips, it is highly efficient for most daily commutes. Using a standard Level 2 charging station, the A7's battery takes approximately 2 hours to fully charge.
Ray Catena Auto Group is the tri-state area's leader in LEVs. Visit us in person to take a test drive or read more of our FAQs to get better informed.
Learn more about charging electric vehicles: