How long can you drive a BMW i3 before you need to charge?
The BMW i3 has a standard estimated range of 153 miles. However, the i3 has an optional range extender, which improves the range to 200 miles.
The BMW i3 is a lightweight, compact luxury electric vehicle from the German manufacturer. The standard model of the 2021 i3 can drive an estimated 153 miles before needing to recharge. However, the additional range extender option adds an additional 47 miles of range, boosting the i3 to 200 miles.
---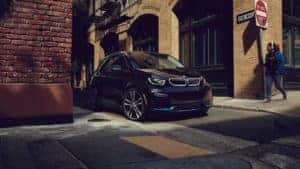 The range extender configuration adds a small gas engine which is used to recharge the i3's battery while driving. This engine is not connected to any other components besides the car's electric battery. At Ray Catena Auto Group, the experts in Electrified Luxury, you can count on us for the LEV information you need to be an informed customer.
Visit us at a Ray Catena Auto Group location to learn more about BMW's innovative i-series or any of the other high-performance LEVs we have available.
Learn more about charging electric vehicles: