Which LEV has the Best Range?
The luxury electric vehicles with the best range include the Tesla Models S, 3, and X, the Mercedes-Benz EQS, and the BMW iX.
Long-range is one of the most coveted qualities for luxury electric vehicles to possess. The longer the range, the fewer stops you need to recharge. This is immensely helpful on longer trips, especially through areas where DC fast-charging stations are not as plentiful. EV manufacturers have been making tremendous strides in adding range to their vehicle batteries. Just five years ago, 100 miles of range was an impressive figure. Today, most luxury electric vehicles are around 200 miles of range or above. At Ray Catena Auto Group, our expert staff is happy to answer all of your burning questions about LEVs.
---
Then there are a select few LEVs that truly excel compared to their competition. As you can see, multiple models are now capable of exceeding 300 miles on a full charge. Here are a few of the very best luxury electric vehicles when it comes to range.
BMW iX – 324 miles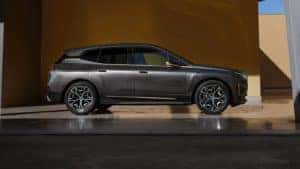 What makes the BMW iX's charge range so impressive is that the iX is an SUV. 220 miles is a respectable range for an all-electric SUV in 2022. The iX can keep driving for nearly 100 miles after its competitors have stopped to recharge.
The iX's sustainability does not end with its battery, however. BMW has also committed to using more sustainable materials in the vehicle's interior design. SensaTec (synthetic vinyl) and microfiber upholstery keep the cabin cozy, comfortable, and free from any animal products. These innovations are just a few of the reasons why the iX is one of the most impressive (and eye-catching) EVs on the road in 2022.
Mercedes-Benz EQS – 350 miles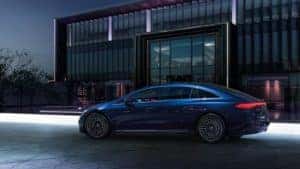 The Mercedes-Benz EQS is truly one of the best all-around EVs available in 2022. Its exceptional range, smooth driving, and luxurious design are all contributing factors to that. The 516 horsepower generated by the EQS is highly impressive for an electric motor, as is its top speed of 130 MPH. But the EQS is much more than a fast and efficient vehicle. It's also one of the most elegant and comfortable rides you'll find anywhere on the road. What else would you expect from a name like Mercedes-Benz.
Tesla Model S – 405 miles
To avoid making this list all about Tesla, we'll include each of the long-range Tesla models under one heading. The Model S reigns supreme in the category of "Best Range," getting up to 405 miles on a single charge in ideal driving conditions. The Model 3, meanwhile, has an estimated range of 358 miles. The Model X just barely edges out the EQS, with a range of 351 miles.
The Model S sets the high watermark for range among LEVs, but that's not all. The manufacturer has made headlines by claiming that a version of this model can reach speeds up to 200 MPH. The standard Model S, to be clear, maxes out at a still-impressive 155 MPH. But the Model S Plaid claims to be capable of breaking the two-century mark on the speedometer. Whether or not these claims are true, the Plaid does also boast over 1000 horsepower. There is no doubting the strength of this LEV.
Ray Catena Auto Group is the local leader in Electrified Luxury – visit a dealership location to take a test drive today.
Learn more about charging electric vehicles: