Which is Better, the Mercedes-Benz EQS or the Audi E-Tron GT?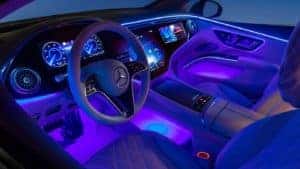 The Audi e-tron GT and Mercedes-Benz EQS offer many similar features to drivers looking for a smooth and exhilarating driving experience. Both luxury electric vehicles are among the best in terms of performance, but the EQS has a slightly longer charge. Learn more.
The Audi e-tron line of vehicles have become some of the most exciting EVs on the market since they debuted. More recently, Audi was joined by their fellow German luxury car manufacturer, Mercedes-Benz in the LEV marketplace. The new Mercedes-Benz EQS instantly became one of the top electric vehicles available in 2022. At Ray Catena Auto Group, we know both Audi and Mercedes LEVs inside and out – here is a comparison of the EQS and the Audi e-tron GT sedan.
---
Battery
Arguably the greatest strength of the Mercedes-Benz EQS is its exceptional battery. The EQS has a 107.8 kWh battery, with a range of up to 350 miles in ideal driving conditions. This makes its battery one of the most powerful anywhere on the EV landscape, rivaling even the Tesla Model S. Using a Level 2 alternating charger, the EQS can reach a full charge in 11.25 hours. With a DC fast charger, the EQS can be charged in roughly half an hour.
The Audi e-tron GT's battery is not bad either. With a 238-mile range and 22.5-minute DC fast charging time, this sedan is still quite impressive. But when compared to the Mercedes-Benz EQS, it is second in this category.
Winner: Mercedes-Benz EQS
Performance
When it comes to driving performance the e-tron GT and the EQS are very similar. The standard Audi e-tron GT is slightly more powerful, with 469 horsepower, going from 0-60 MPH in 3.9 seconds. The e-tron GT tops out around 152 MPH, according to the manufacturer. The EQS, by comparison, offers 329 horsepower, 0-60 in 5.9 seconds, and a top speed of 130 MPH.
Both models seat five passengers comfortably and have an array of advanced safety features. Some highlights include the three distinct driving modes in the Mercedes-Benz EQS, and the GT's Stop&Go adaptive cruise assist.
Ultimately it is too close to call either one of these models the winner in the performance category.
Winner: Tie
Technology
With the wide array of technology options available in these two LEVs, this category may be a matter of preference. Both models have very sleek and intelligent designs. Both offer great cabin climate control, touchscreen displays, wireless connectivity, and multi-colored ambient lighting. One spectacular feature that's unique to the Mercedes-Benz EQS is its panoramic sunroof. Other standard features on the EQS include voice control commands, a 3D surround sound system, and heated front seats. These two models are very close in terms of available technology. But the wide range of standard features on the EQS gives it a slight advantage in this category.
Winner: Mercedes-Benz EQS
Price
One final metric to consider when comparing any two vehicles is the price. However, for the Mercedes-Benz EQS and Audi e-tron GT, there is virtually no difference in cost. The EQS starts at $102,300, while the e-tron GT's starting price is $102,400. Once again, the difference between these two models is too close to name a winner.
Winner: Tie
Ready to see how these models stack up for yourself? Ray Catena Auto Group has test drives available, and our knowledgeable staff will keep you informed on all you need to know about Electrified Luxury. Contact us today or learn more about Mercedes-Benz and Audi electric models.