How Does the Mercedes-Benz EQS Compare to the Audi e-tron GT?
The Audi e-tron GT and the Mercedes-Benz EQS are among the most exciting and powerful LEV sedans available in 2022. The EQS stands out for its exceptional range (350 miles) and highly advanced technology.
Drivers looking for style and luxury in an electric vehicle will be pleased with both the Audi e-tron GT and Mercedes-Benz EQS. Both LEV sedans were crafted with the utmost care from two of the most trusted names in the automotive industry. While they share many similarities, certain key differences also help distinguish each model – and at Ray Catena Auto Group, we're focused on the details and committed to helping you find the right LEV for your life. Here's a look at how the e-tron GT and EQS compare to one another.
---
Driving Performance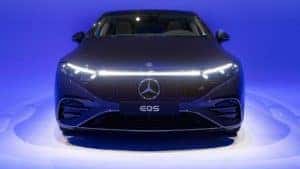 The Mercedes-Benz EQS has one of the best performing batteries among all LEVs. The 107.8 kWh capacity battery is good for a charge range of up to 350 miles. That range is second only to the Tesla Model S among this year's EV models. However, the EQS only boasts average charging speeds. A Level 2 charger can fully charge the battery in about 11 hours, while fast charging takes approximately 35 minutes.
The Audi e-tron GT does not boast quite as much range as the EQS. However, at 238 miles, this EV's battery can still get you where you need to go with ease. It also boasts slightly faster charging times than the EQS. 10.5 hours with Level 2 charging, and roughly 30 minutes using a fast charger.
On the road, both vehicles perform exceptionally well. Of course, Audi and Mercedes-Benz have tremendous experience when it comes to crafting high-performance vehicles. Both the e-tron GT and EQS glide smoothly with pristine handling in all situations. The GT boasts a slightly more powerful drive train. With 637 total horsepower, the GT is one of the fastest LEVs, maxing out at 156 MPH. The EQS, meanwhile, offers a very strong 516 HP and a top speed of 130 MPH.
Technology and Design
Both inside and out, the Audi e-tron GT and Mercedes-Benz EQS are among the most dazzling models available. Each model features a sleek, luxurious frame with their respective iconic brand logos adorning the front and back.
Inside are two of the most lavish cabins you will find in any LEV. Expansive digital touchscreen displays combine elegance and productivity like no other. Among the Audi's standard safety features are automated pedestrian detection and emergency braking, and blind-spot warnings.
Interior features in the Mercedes-Benz offer unmatched elegance. 64 color options of ambient lighting, power heated front seats, and powerful surround sound are just a few of the standard features. There's a reason we named the EQS our best LEV for onboard tech this year. Not to be outdone, the e-tron has its own ambient lighting, heated seats, and many more excellent features.
Cost of Ownership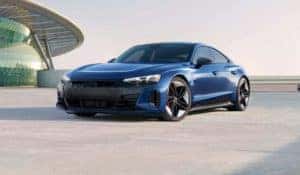 The Mercedes-Benz EQS has a starting price of $102,310. Drivers can upgrade to the Exclusive Trim at the price of $128,275, or the extravagant Pinnacle Trim for $131,050. The Pinnacle Trim adds many exclusive features, like wireless charging and heated seats, to the rear cabin.
The Audi e-tron GT starts at $99,900. With Audi's Exclusive Trim, drivers can add features like massaging front seats and a cabin air-purification system for $128,275.
Visit your local Ray Catena dealership – we're the tri-state area's luxury electric vehicle experts and always the legend in luxury, and our knowledgeable staff is always ready to help. Or continue reading our comprehensive guides to all your LEV questions.
Learn more about Audi Electric Cars: