How Does the Audi E-Tron Compare to the Tesla Model X?
The Tesla Model X boasts a flashier design and more range than the Audi e-tron. Both cars provide a comparable driving experience, with the e-tron winning out with slightly smoother handling and increased optional towing. At Ray Catena Auto Group, we're always prepared to set you up with a test drive and help you learn more about the exciting present and future of LEVs.
---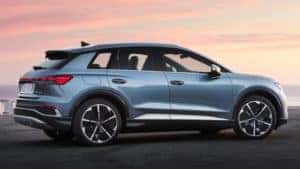 The Audi e-tron was Audi's first dedicated line of fully electric vehicles. The 2022 installment has helped to further cement this line's place in the LEV landscape. The e-tron is an exercise in understated luxury and exceptional performance. One of its nearest competitors is the Tesla Model X. Tesla's EVs always perform exceptionally well, and that remains true for the 2022 Model X. Here's a summary of how the two vehicles compare in key categories.
Driving Performance
The standard Tesla Model X has a very impressive range of 348 miles. Among luxury electric SUVs, only the BMW iX can contend with that number. The standard Audi e-tron's range is 218 miles, which puts it right around the average for electric SUVs in 2022. Both the Model X and the e-tron offer quick charging times, with DC fast charging times of around 30 minutes each.
The Model X Plaid trim has the most powerful motor of any electric SUV on the market. With 1020 horsepower, and tops out around 160 MPH. The e-tron does not boast quite as much flare (355 HP, 125 MPH) but it does have some performance advantages. The e-tron's handling and ride quality are both excellent, while the Tesla's yoke steering wheel can be awkward for some. The Audi also has an optional towing package which can increase its towing capacity to 4000 pounds. That much power is quite rare for a luxury electric vehicle.
Tech and Design
Technologically speaking, the Tesla Model X and Audi e-tron are both highly advanced. However, there are some very glaring differences in both their tech and design. All new Tesla vehicles come equipped with Tesla's Autopilot package, which provides some self-driving capabilities. The Model X also creates a very distinct look with its gull-wing rear doors. This feature is more stylistic than practical, but it is an undeniable attention-grabber.
The Audi e-tron achieves a much more understated exterior design. Besides an expanded front grille, nothing grabs your attention immediately, which is a testament to the sleekness of the e-tron's design. The SUV is roomy, but not oversized, and has 10 available colors.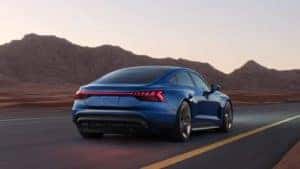 Neither car seeks to overwhelm the passengers in the cabin, but both offer exceptional luxury. Like most Teslas, the Model X features a single all-purpose touch screen in the cockpit. The Audi offers a more expansive display system, but both are functionally similar. Some of the e-tron's available cabin features include heated and massaging seats and a panoramic sunroof.
The Model X may be the more lavish option between these two vehicles. But the quiet elegance of the e-tron is capable of leaving a very strong impression as well.
Cost of Ownership
The standard Tesla Model X starts at $114,990, while the Plaid addition begins at $138,990. Adding Tesla's full suite of self-driving features to their vehicles costs an additional $12,000.
The standard Audi e-tron starts at just $65,900. The Premium Plus and Chronos trim increase the price to $74,800 and $83,400 respectively.
Ray Catena Auto Group is moving luxury cars into the future with our LEV selection – visit your local dealership to discover our LEV lineup in person with our signature level of customer service.
Learn more about Audi Electric Cars: