How Long Does it Take to Charge the Mercedes-Benz EQS 450?

The completely electric Mercedes-Benz EQS 450 sedan takes 11.5 hours to fully charge using a standard 240V EV charger.
View Our Mercedes-Benz EQS Inventory
---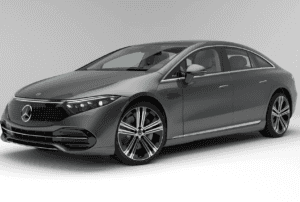 The Mercedes-Benz EQS 450 is an all-electric luxury sedan model from Mercedes-Benz. The EQS 450 is one of the most impressive luxury electric vehicles on the road in 2023. It boasts an incredibly comfortable interior with stunning technology in addition to superior performance.
The 2023 Mercedes-Benz EQS 450 can drive up to 350 miles on a single charge. In order to reach full charge capacity, the Mercedes-Benz EQS requires about 11.5 hours of charging time using a 240-volt Level 2 charger. However, using a Level 3 DC fast charging station, the EQS 450 can reach 80% charge capacity in just 31 minutes.
How to Charge the Mercedes-Benz EQS 450
The Mercedes-Benz EQS 450 is compatible with most electric vehicle charging stations. EQS owners can plug their vehicle into a garage outlet for Level 1 charging, though this only offers slow charging rates. Many EV owners choose to install a Level 2 charging station in their homes for faster and more convenient charging.
To find charging stations on the road, drivers can easily connect their vehicles with the Mercedes me Charge app. This can help locate compatible public Level 2 or 3 charging stations nearby anytime you need.
At Ray Catena Auto Group, our knowledgeable staff has the answers to all of your questions about luxury electric driving. Visit us at a Ray Catena dealership, or contact us to find out more on the energy-efficient and high-performance EQS.
Learn More About Mercedes-Benz Electric Vehicles: