How Long Does it Take to Charge the Mercedes EQB?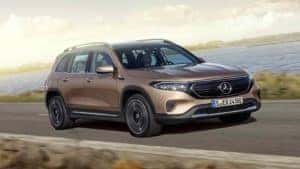 Like most luxury electric vehicles, the Mercedes-Benz EQB is compatible with Level 1, 2, and 3 charging stations. Charging times vary depending on the type of charger being used and other conditions.
Using a 240V Level 2 charger, either at home or in public, the Mercedes-Benz EQB offers a charge time of 7.5 hours. This means most drivers can fully charge their vehicle overnight, or even while at work.
Using public DC Fast Charging (Level 3), the Mercedes-Benz EQB can charge from 10-80% in just 32 minutes.
Find a charging station near you.
Ray Catena Auto Group provides NY and NJ drivers with everything they need to get behind the wheel of a luxury electric vehicle. Visit us at a Ray Catena Mercedes-Benz dealership location or contact us to learn more.
View Our Mercedes-Benz EQB Inventory
Learn more about Mercedes Benz electric cars:
Learn more about charging LEVs: