How Does the Mercedes-Benz EQS Compare to the Tesla Model S?
The Tesla Model S (405 miles) and Mercedes-Benz EQS (350 miles) are the two highest-range luxury electric vehicles in 2022. While the Model S boasts superior speed and power, the EQS offers enhanced luxury and handling.
Tesla and Mercedes-Benz represent an interesting dynamic in the EV landscape. Tesla, founded in 2003, is the new upstart that has made its name on cutting-edge EV technology. In direct contrast, Mercedes-Benz was founded nearly a century ago and has long been an established luxury manufacturer. And now, in 2022, both manufacturers are making their mark in the LEV marketplace – at Ray Catena Auto Group, we're happy to help you understand what makes each luxury carmaker's LEV offerings unique. The Tesla Model S has made headlines for its exceptional range and speed. And the Mercedes-Benz EQS has emerged as one of the highest-rated EVs available. So how do they compare side-by-side?
---
Driving Performance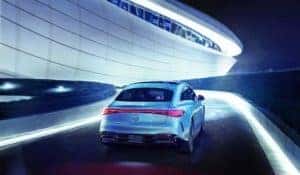 In terms of range, these are the two best LEVs available. The standard Model S gets an industry-leading 405 miles on a single charge. The EQS is not far behind, at 350 miles of range. The Model S Plaid trim is also the industry leader in top speed. The manufacturer claims that this model is capable of reaching 200 MPH, though that speed has not been unlocked yet. Even without reaching its full potential, the Model S has been recorded at an unmatched 162 MPH.
Though the EQS does not quite reach the same level, its 130 MPH max speed is impressive for an EV. Both vehicles also feature a DC fast charging time of roughly 30 minutes.
The EQS also offers three distinct driving modes for an enhanced driving experience. The Eco and Comfort modes keep the car running smoothly and efficiently during everyday commutes. For a more exhilarating ride, drivers can switch to Sport mode, lowering the vehicle for improved suspension and aerodynamic performance.
The main consistent knock against the Model S is that its handling and suspension at top speeds can be lacking.
Design
On the exterior, both the Tesla Model S and Mercedes-Benz EQS offer sleek, elegant designs. Other than the EQS' panorama roof and somewhat bulkier frame, there are not many noteworthy exterior distinctions between the two. The interiors, however, could not be more different.
Tesla has taken a minimalist approach to its cabin design. Synthetic leather seats are surrounded by a sleek and simplistic cabin. A single touchscreen houses all your infotainment needs, accompanied by a dual wireless smartphone charging station. There is not much to it, but there is a certain elegance in Tesla's simplicity.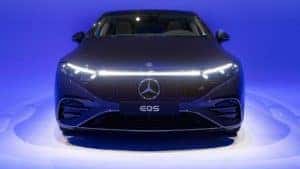 The EQS, on the other hand, features one of the most spectacular cabin displays in the industry. The optional 56-inch touchscreen display is the largest available in any EV model. 64 colors of customizable ambient lighting help to create an exuberant personal touch. And it wouldn't be a Mercedes without access to some of the most advanced safety tech on the market.
For those who prefer lavish designs, the EQS may very well be your dream car.
Cost of Ownership
The standard Tesla Model S starts at $99,990, but Tesla's famous self-driving features cost an additional $12,000. The Mercedes-Benz EQS has a starting price of $102,310. However, the popular "Premium" and "Exclusive" Trims increase the price to $125,900 and $128,275 respectively.
Visit a Ray Catena Mercedes-Benz dealership to drive home a new EQS – come see what Electrified Luxury can do for your daily drive.