The Technology and Features of the Range Rover Plug-In Hybrids
The Range Rover Plug-in Hybrid models each offer up to 19 miles of range when operating solely on electric power. In addition to being the most efficient Range Rovers to date, the PHEV models deliver much of the same capability that luxury drivers expect from the luxury SUV brand.
---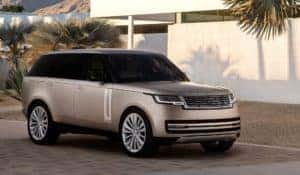 Range Rover has unveiled a pair of plug-in hybrid electric vehicles: the Range Rover Plug-in Hybrid and Range Rover Sport Plug-in Hybrid. These are the first hybrid or electric vehicles in Range Rover brand history. Both Range Rover PHEV models can drive up to 19 miles using only the electric battery. Each model also gets up to 19 miles per gallon when using its gas engine without electric power.

The Range Rover plug-in hybrids use a 2.0-liter Si4 Ingenium engine that delivers up to 398 horsepower, reaching top speeds of 137 miles per hour. The PHEV Range Rover models also live up to the brand's reputation for ruggedness, with an industry-leading 35.4 inches of wading capacity.
Range Rover has announced plans to introduce a fully electric vehicle in 2024.
Range Rover Plug-in Hybrid Highlights
Range Rover Plug-in Hybrid Models
In terms of performance, the Range Rover Plug-in Hybrid and Range Rover Sport Plug-in Hybrid are nearly identical. The primary distinction between the two is in the design. True to its name, the Sport is designed to handle more off-road and difficult terrains. The trade-off is that the Sport model has slightly less cargo and passenger volume. The Range Rover Sport Plug-in Hybrid has about 25 cubic feet of rear cargo space, whereas the Range Rover Plug-in Hybrid offers 65 cubic feet of rear storage.
Range Rover Plug-in Hybrid Interior
Range Rover's Plug-in Hybrid models remain true to the brand's understated yet elegant aesthetic. Windsor leather seats are available in a variety of color options. Both models are spacious, with the executive class rear seating offering over 40 inches of rear legroom.
Both models also come equipped with a 13.1-inch touchscreen infotainment center and a digital head-up display for the driver's convenience. Rear touchscreens are also available.
Range Rover also provides four-zone climate control and cabin air filters to help enhance the comfort of every passenger on board.
Range Rover Plug-in Hybrid Technology

The hybrid Range Rover models are equipped with many of the latest connectivity technologies available. From the 13.1-inch touchscreen, both driver and passenger can access navigation, music, live traffic information, and more. Wireless Apple CarPlay and Android Auto are also available when connecting your mobile devices. That connectivity is paired with a Meridian 3D surround sound audio system.
Range Rover has also built an Amazon Alexa into their plug-in hybrids, giving passengers access to an extremely wide range of hands-free options. The Range Rover hybrid models also offer wireless charging and wi-fi-enabled data plans for your vehicle.
Range Rover Plug-in Hybrid Safety Features
The new Range Rover models have an array of advanced features to help deliver the smoothest, and safest, possible driving experience. Adaptive Dynamics monitors the driver's movements at a rapid pace to automatically control the vehicle's damper settings.
The new Range Rover also provides Torque Vectoring by Braking, which significantly improves handling when going around tight bends. Electronic Air Suspension also helps to create a remarkably smooth ride when driving over uneven terrain. All of these features help the Range Rover Plug-in Hybrids live up to the brand's reputation for ruggedness and reliability.
Ray Catena Auto Group is the tri-state area's LEV leader. Visit one of our Land Rover dealership locations today or see more of our expert information on plug-in hybrids.
Learn more about LEVs: