How do the Land Rover Plug-in Hybrid Models Compare to Each Other?
Land Rover's two plug-in hybrid SUV models, the Range Rover plug-in and Range Rover Sport plug-in are mostly identical vehicles. The primary difference is that the Sport is slightly smaller, which provides a sportier drive performance. Learn more and compare these two models.
The two Land Rover Plug-in Hybrid models take a classic luxury SUV and turn it electric. The Range Rover Plug-in Hybrid and Range Rover Sport Plug-in Hybrid are, understandably, very similar vehicles. Both continue the long line of elegance that drivers associate with the Range Rover name, now with added efficiency. And while these two models are similar, they are not completely identical. At Ray Catena Auto Group, we're your local Land Rover experts, and we're always ready to set up a test drive. Here's a breakdown of how the two Land Rover plug-in hybrid models compare to one another.
---
Driving Performance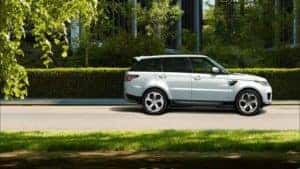 In terms of driving performance, each Range Rover model is virtually identical. Both have a 398 horsepower engine, 19 miles of fully electric driving, and 42 MPGe. The 19 mile battery range is not sufficient for longer trips, but it is great for daily commutes. And with the 2.75 hour Level 2 charging time (both models), drivers can quickly charge their Range Rover before getting back on the road. There is a very slight difference in the size of the gas tanks of the two models. The Sport has a 24.1 gallon gas tank, compared to 24 gallons on the standard model. While that difference is minor, it does provide the Sport plug-in hybrid with slightly more overall range.
Range Rover vehicles have always been known for their excellent handling and powerful driving. The hybrid models do not abandon that tradition, despite a smaller-than-usual two liter turbocharged engine. Other features include a rearview camera, parking assist technology, and optional driver assistance.
In all, the standard model delivers a slightly more powerful performance, while the Sport is more compact and sporty.
Design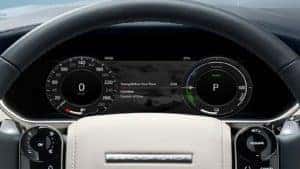 The design is where you will find the biggest material difference between the Ranger Rover and Range Rover Sport hybrids. The Sport model is slightly more compact than the standard plug-in hybrid. This makes the sport more capable of handling rugged and off-road driving conditions. The tradeoff, of course, is less cargo space. The Sport has just 24.8 cubic feet of rear storage. By contrast, the standard Range Rover Plug-in Hybrid has a cavernous 65.1 cubic feet of storage. This makes it an ideal family vehicle, or a great vehicle for transporting any bulky cargo in general.
The standard model also provides two extra inches of rear legroom for passengers, making for a slightly more comfortable cabin. Beyond that, however, the cabins on the two Land Rover Plug-In Hybrids are fairly similar.
No matter which model you choose, all Range Rover drivers will have access to a tremendous amount of luxury features. Land Rover's in-cabin technology is second to none. Highlights include three-zone climate control, 10-inch touch screen displays, and a 19-speaker surround sound system.
Cost of Ownership
The Range Rover Sport Plug-in Hybrid starts at just $83,000 to own. The standard Range Rover Plug-in Hybrid, on the other hand, starts at $97,000. As both vehicles come from the same manufacturer, drivers have access to many similar optional features.
At Ray Catena Auto Group, we're ready to provide you with legendary service and expertise, whether you're interested in a rugged but fuel-efficient Land Rover plug-in hybrid or another of our Electrified Luxury offerings. Contact us or see more of our comprehensive LEV info.