How Long Can You Drive a Porsche Taycan Before You Need to Charge?
The standard Porsche Taycan has an estimated charge range of 225 miles. However, with the optional Performance Battery Plus, the standard Taycan EV has an estimated range of 282 miles. The Taycan 4 Cross Turismo has a range of 215 miles.
---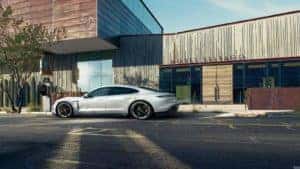 The Porsche Taycan sedan is one of the fastest luxury electric vehicles available in 2022. With standard features, the Taycan has an estimated range of 225 miles. It can also come equipped with the Performance Battery Plus as an optional feature. This enhanced battery increases the Taycan's range to 282 miles.
Additional models may also have different range limits than the standard Taycan sedan. The Cross Turismo has a slightly lower 215 mile range, while estimates for the Sport Turismo have not been released. At Ray Catena Auto Group, the tri-state area's LEV experts, you can count on us for the answers to all your questions on the capabilities of current and future luxury electric vehicles.
Visit us at one of our dealership locations to experience the stunning Porsche Taycan and other vehicles in our Electrified Luxury lineup in person.