Jaguar I-PACE – Review
The Jaguar I-PACE is Jaguar's first all-electric model. Since being introduced in 2018, the I-PACE has firmly established itself as one of the top electric SUVs on the market. Learn more.
The Jaguar I-PACE is a fully electric luxury SUV from one of the most trusted names in luxury vehicle manufacturing. Jaguar has always been a highly innovative brand, so it should surprise nobody that the I-PACE is an excellent EV. The I-PACE combines the craftsmanship and pedigree of all Jaguar vehicles with the ultra-efficiency of electric power.
---
Range
The I-PACE gets up to 234 miles when its battery is fully charged. That range is complemented by fairly quick charging times. Using a 240V Level 2 charger, the I-PACE can go from 0-100% charge in just over 10 hours. DC fast charging charges the I-PACE at a rate of about 78 miles every 15 minutes, according to the manufacturer.
Speed and Performance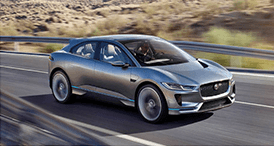 The Jaguar I-PACE has surprising power for a fully electric vehicle. Maxing out at 394 horsepower, the I-PACE accelerates from 0-60 MPH in just 4.5 seconds. The I-PACE has a top speed of 124 MPH.
The I-PACE's all-wheel drive helps give it fantastic traction and handling for a very smooth ride in any setting. As is typical of Jaguar vehicles, the I-PACE combines power and agility for incredible satisfaction. The I-PACE is capable of satisfying any number of needs. It can serve as a reliable family SUV one day, and an exhilarating, sporty ride the next. This versatility, combined with exemplary performance, helps make the I-PACE one of the best all-around LEVs available.
Design
Elegance and authority are two words that come to mind when looking at the Jaguar I-PACE. The exterior design is streamlined with a deceptively compact appearance. Lightweight aluminum helps make it more aerodynamic than most other LEVs on the road. And with the heavy battery pack installed on the undercarriage, the I-PACE's low center of gravity aids handling.
Inside, the surprisingly spacious cabin is adorned with Windsor Leather seats and seamlessly integrated technology. The I-PACE's acoustic design helps dampen outside noise while providing the perfect ambiance for surround sound. With 40 inches of front headroom and 41 inches of legroom, even the tallest passengers can enjoy the I-PACE comfortably.
Technology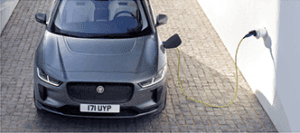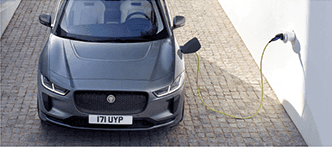 Jaguar's available technology combines luxury and practicality. The advanced safety technology that comes standard with the I-PACE is second to none. Emergency braking, pedestrian detection, lane keep assist, and blind spot warnings are just a few of the standard safety features. Nothing is more important than safety on the road, and Jaguar made sure to emphasize this point when designing the I-PACE.
A dual-screen center console display handles all of your information and entertainment needs on the road. The HD information display placed directly behind the steering wheel helps keep your eyes on the road at all times. As expected, I-PACE drivers have no shortage of tech options available to them.
Cost of Ownership
The Jaguar I-PACE starts at just $69,900. Jaguar offers a very extensive suite of optional upgrades which shape the price accordingly. For instance, their Cold Climate Pack adds $550, and the Head-up Driver Display is an extra $1,000. Many more options are available for drivers who wish to fully customize their I-PACE.
Ray Catena is a leading dealer of Luxury Electric Vehicles in New York and New Jersey. Visit your local Ray Catena Jaguar dealership to find your new I-PACE.