When will the Mercedes-Benz EQB be available for purchase?
The all new, fully electric Mercedes-Benz EQB is expected to become available for purchase in America in late 2022. An exact date is not available yet, but Mercedes-Benz promises the new LEV will be available before the end of the year.
---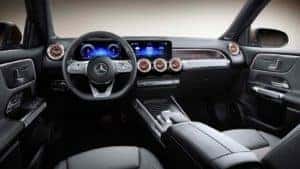 Mercedes-Benz has already made quite an impression with some of its previous LEVs. One of their next models will be the Mercedes-Benz EQB. While it is not available for purchase yet, the EQB is expected to reach dealerships by late 2022.
The EQB is a fully electric SUV with 225 horsepower. Among its most impressive features is an exceptionally fast 7.5 hour charging time using a simple household charger. Look for this highly impressive new LEV in the coming months. At Ray Catena Auto Group, we focus on keeping you informed with all the latest on new and upcoming LEVs.
Visit us in person to take a test drive of any of the high-performance LEVs we have available, or learn more about current and upcoming LEVs in our FAQ.
Learn more about Mercedes electric cars: