When Will the Mercedes-Benz EQC be Available for Purchase?
The Mercedes-Benz EQC is one of the most exciting LEVs on the horizon of the industry. However, for American drivers, the EQC is not expected to become available for purchase until 2025.
---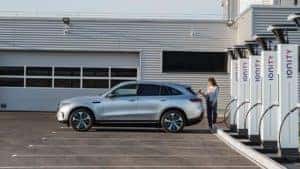 With the Mercedes-Benz EQC, Mercedes-Benz promises one of the finest and most elegant luxury electric vehicles ever made. Unfortunately for American customers, the EQC is not expected to reach the States until 2025. Originally, a late 2021 release date was planned for the SUV. The manufacturer cites "market developments" as the reason for the delay.
American consumers may be disappointed to learn of the delay on the Mercedes-Benz EQC. However, Mercedes-Benz does offer other new LEVs, such as the EQB, which will be available before the end of 2022. At Ray Catena Auto Group, you can count on us to keep you updated on the latest LEV developments.
Visit us in person to test drive one of the exciting Mercedes-Benz LEVs currently available, or view our whole LEV inventory.