Which is better, the Porsche Taycan or the Tesla Model S?
The Porsche Taycan and Tesla Model S are two of the most exciting and powerful LEV sedans available in 2022. Both vehicles offer a luxurious and exhilarating driving experience and high-tech elegant interiors. The Model S has an advantage in horsepower, but the Taycan's handling and safety features are superior. At Ray Catena Auto Group, we can help you compare any LEVs you have interest in to determine which one would be the best choice for you.
---
Tesla has dominated the electric vehicle landscape in the early years of EV development. But longtime luxury manufacturers like Porsche are starting to carve out their own place in the marketplace. Porsche has made an incredibly bold statement with the Porsche Taycan line, a sleek and powerful four-door electric sedan. So how does it compare to the iconic Tesla Model S? Here's a breakdown of these two exciting luxury electric vehicles in certain key categories.
Battery
Tesla is one of the most experienced luxury electric vehicle manufacturers in the world. That experience and expertise show in the battery specs on the Tesla Model S. The Model S has an industry-leading 396-mile charge range. Very few other LEVs have a range above 300, making this number look even more staggering. The 103 kWh battery is also one of the fastest charging models on the market. According to the manufacturer, the Model S charges at a rate of 200 miles in 15 minutes with DC charging.
The standard Taycan model doesn't have quite the range of the Model S. But that does not mean the Taycan's battery is unimpressive. With a range of 225 miles, the Taycan is still an extremely reliable vehicle that can handle extended trips. The Taycan's 79.2 kWh battery can also go from 5-80% charge in just 22.5 minutes, according to the manufacturer.
Winner: Tesla Model S
Driving Experience
The driving experience of both the Porsche Taycan and Tesla Model S can be summed up in one word: power. Both standard models can reach speeds above 140 MPH, which is rarefied air for EVs. Meanwhile, the Model S Plaid boasts over 1000 horsepower and a top speed of 200 MPH. Not to be outdone, the Taycan Cross Turismo has 750 horsepower and can go 0-60 in just 2.4 seconds. You truly can't go wrong with either of these models if a powerful vehicle is your priority.
The Porsche Taycan may lag behind slightly in terms of horsepower. But Porsche's unmatched ingenuity has helped create a truly unique driving experience in the Taycan. This LEV is not just a power sedan. It's also an incredibly smooth and reliable vehicle in all situations.
Winner: Tie
Design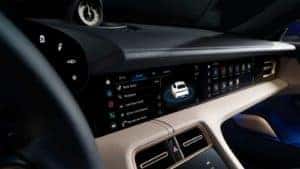 Tesla's cabin technology is always cutting edge. But Porsche's sleek and innovative design means the Taycan gives the Model S a run for its money. Both vehicles have a very distinctive silhouette and will be very eye-catching while on the road. The Taycan may have a slight edge in terms of design for a couple of reasons. First, its cabin is extremely comfortable and impeccably designed, with a multifunction sports steering wheel and curved dashboard display. Second, Taycan drivers have more options, with 10 distinct Taycan models, compared to just two for the Model S.
Winner: Porsche Taycan
Ray Catena Auto Group is the leading local source for LEVs – come visit us in person and see what Porsche's powerful and stylish luxury electric vehicles can do for you.
Learn more about electric cars: