How Does the Mini Cooper Electric Compare to the BMW i3?
The BMW i3 and MINI Cooper Electric SE Hardtop are both compact luxury electric vehicles. Both vehicles offer a sporty, aerodynamic driving performance. The i3 has slightly more electric battery range and horsepower.
---
Drivers looking for a sporty and compact LEV driving experience have two excellent options in the BMW i3 and MINI Cooper Electric SE Hardtop. Both vehicles provide a fun and exciting driving experience that are great for city travel. And while they are fairly similar in some ways, there are also differences to consider between them. At Ray Catena Auto Group, we're the regional LEV experts and we're known for our exceptional customer service – we can help you choose the right model for your lifestyle and driving wants. Here is a breakdown of how each of these luxury electric vehicles performs in certain areas.
Driving Performance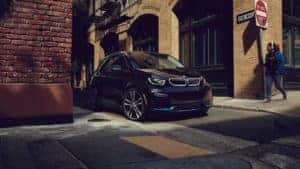 One of the first numbers most drivers look at when considering LEVs is the battery range. The BMW i3 has a standard charge range of 153 miles, compared to the MINI Cooper SE Hardtop's 114 miles. So while i3 drivers may not need to charge as frequently, both vehicles are fairly similar in their range limitations.
The MINI Cooper Electric has a slight edge in horsepower: 181 HP, compared to the i3's 168. However, the thrill of both of these models is in their lightweight and sporty handling. Both of these compact vehicles boast extremely responsive handling. They are great for city driving and mid-ranged commutes, with their lightweight frames making them fun to drive at any time.
The i3 just barely edges out the MINI Cooper in terms of speed (99 MPH maximum, compared to 93 MPH). But both LEVs accelerate from 0-60 at exactly the same rate of 6.9 seconds.
While neither of these LEVs are designed for long road trips, they both are excellent for day-to-day use and commutes. The i3 has only a slight advantage in terms of efficiency.
Tech and Design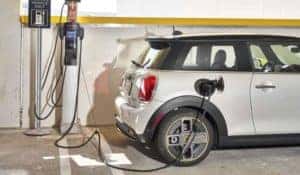 In terms of exterior design, few brands have a more distinct look than MINI Cooper. Despite going electric, the SE Hardtop looks no different than many of its recent gas-powered predecessors. The compact box-like frame looks as sleek as ever in this model. The i3 is similarly compact, but BMW gave their LEV a more rounded silhouette.
On the interior, both BMW and MINI know how to strike the balance between elegance and practicality. The SE Hardtop's rounded center console display is distinctive and impressive, but easy to navigate as well. The cabin of the i3 has a fairly simplified, but futuristic aesthetic. There are fewer gadgets than in some other LEVs, but every component is seamless and smooth.
The MINI Cooper Electric SE Hardtop even gives drivers the option to customize their cabin with ambient LED lighting.
And, of course, both vehicles also offer loads of optional cabin features to enhance the experience even further. Heated seats, dual-zone climate control, and hands-free infotainment access help make the i3 and SE Hardtop exceptionally comfortable vehicles.
Cost of Ownership
Both vehicles are relatively affordable for cars of their quality. The MINI Cooper SE Hardtop is exceptionally affordable at just $29,900, while the BMW i3 starts at $44,450. MINI's recommended driver assist package plus active cruise control adds $1200 to the price. BMW's driver-assist package adds an additional $2,350 to the price.
Visit a Ray Catena dealership to test drive the powerful BMW i3 or the fun and energy-efficient MINI Cooper SE Hardtop.