How long can you drive a BMW iX before you need to charge?
The BMW iX has an exceptional charging range of 324 miles on a single charge. This makes it one of the best luxury electric vehicles in terms of charge efficiency. At Ray Catena Auto Group, we're ready to help you find the perfect LEV, whether efficiency is your top priority or something else is.
---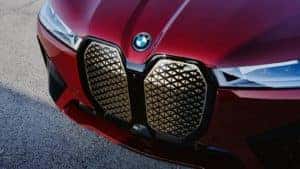 The BMW iX is in elite territory among other luxury electric vehicles with a range of 324 miles. This range is particularly exceptional for an SUV like the iX. Most other vehicles with similar charge rangers are sedans or smaller models.
The BMW iX also comes with its own complimentary charger, compatible with either 120V or 240V outlets. This makes it very easy for owners to charge their iX at home whenever needed. With easy at-home charging, iX drivers never need to worry about being out of range from a charger.
Visit us in person at a Ray Catena dealership location to learn more about the incredible battery power of today's LEVs, or return to our FAQ page to learn more about LEV charging and batteries.